December 1st, 2005 - by Anastasia Skullman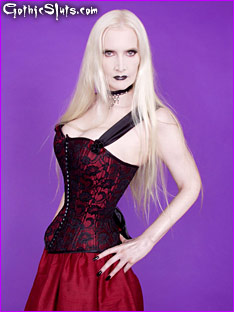 The corset Maitresse Jennifer is wearing in this elegant GothicSluts.com photo series was custom made by the wonderful Isabella Costumiere for Amelia G and Forrest Black to photograph. With Jennifer's fabulous bust, we just had to see her in it. The design is a bridal corset with more unusual colors Isabella let Amelia G select. Shooting this set was a real pleasure working with such a great team of talented incredible people.
Get a closer look at the classic sexy spooky Maitresse Jennifer over on Blue Blood's Gothic Sluts.