February 3rd, 2006 - by Anastasia Skullman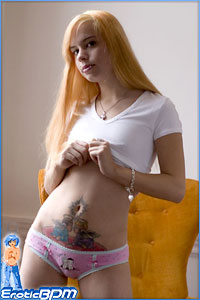 Nyx is such a cutie. We thought we'd share a little fun and interesting information about her for those that just can't get enough of her. Be sure to stop by EroticBPM and check out the latest hot set of her playing around in the morning sun, wearing her adorable pink panties and sneakers.
About me: im an open minded individual, with very diverse style, i love smiling and laughing… I always enjoy having a good time with friends and always being there for them. I am a vegetarian but i dont eat any dairy, still not a vegan tho. I love dancing and singing even if im making a fool of myself. I'm pretty interesting but at times im just plain old boring, i guess it all depends on what mood you catch me in.
My Piercings: i gots 5/8th plugs in each ear (soon to be 3/4), vertical and horizontal nipple rings, christina, vertical hood, septum, two lower lip rings, and a monroe.
My Tattoos: angel wings outline on my back, two angels sitting on a cloud on my lower tummy, and an unprofessional star on my belli button.