December 18th, 2005 - by Belinda Skullman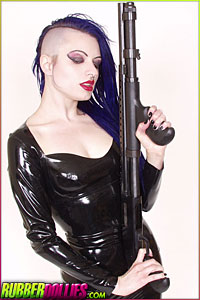 Latex diva Darenzia has had a busy winter with photographs featuring her in the Folsom Fair Street Guide, Marquis, and Heavy Rubber. And she even appeared, rocking the mohawk, on the cover of a science fiction novel by Carlton Mellnick called Punkland. Shoots with Amelia G and Forrest Black, Kyle Cassidy, and Peter Czernich all placed the blue-tressed beauty on glossy printed pages.
But she is sexiest on the web. There are currently six sets of her in slick shiny rubber on Blue Blood's RubberDollies.com, five sets of her more devilishly delightful side on Blue Blood's BarelyEvil.com, and six sets of her deathrock luxuriousness on Blue Blood's GothicSluts.com. Yummy gummi.